So, many of you know how much I ADORE cute clip art!!! Well, I have such a wonderful announcement to make! There is the MOST PRECIOUS CLIP ART SHOP that has opened at Teacher's Notebook! A true artist!!! I have been fortunate to know about this little gem...named Jen...for several years now! During my "pixel days", she was the go-to for MANY of us!!! Her pixel graphics are THE BEST...so precise...so incredibly awesome...just so darn CUTE!!! I am SO HAPPY to announce that she is now doing clip art...and has opened a shop at Teacher's Notebook...and the name of her shop says it all...
BUBBLY CUTE
!!!
Ok, so RUN...and I do mean RUN on over to check out her precious shop! She is working on much more to add...so be sure to check back often...you will be SO HAPPY that you did!
So, I'm going to end this post here so you can RUN RIGHT OVER NOW to her most precious shop...and she has some cute FREEBIES too!!!
Waving from The Teacher's Chatterbox,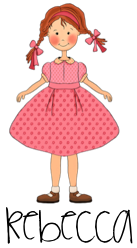 ***REVISION*** I have just learned..and I'm happy to add...that Jen has extended her clip art to TpT now! Visit her there too! Yipppeee!!! She IS the BEST!!! :)